March 2022 ***UPDATED – Current COVID Protocols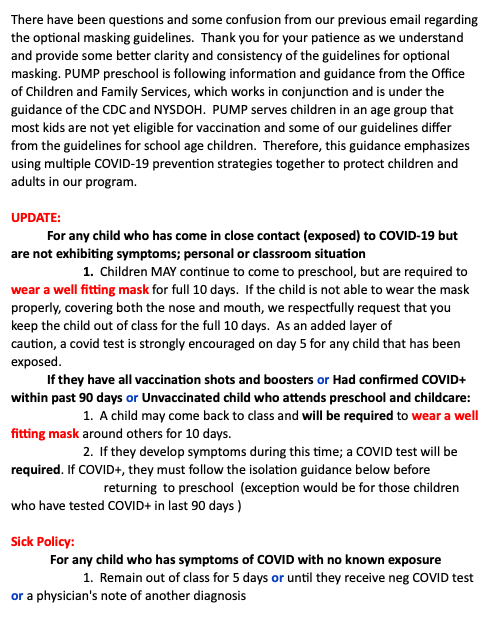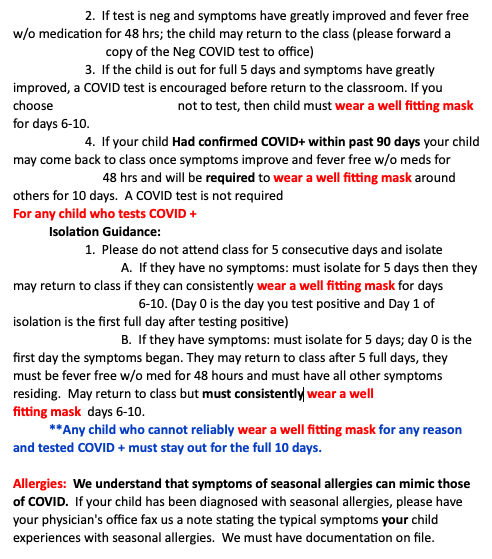 ***UPDATED CDC Domestic Travel Guidelines***
***1/17/2022***
Dear Parents,
Our first message regarding COVID changes was sent Jan 9th after new information was handed down from the MCDOH regarding new guidelines for 5 day isolation and quarantine. We will continue to follow our 10 day isolation and quarantine periods with positive results. We would like to continue to update our information as we move forward in this very tumultuous process of mitigation of COVID in our community.
Recently we have the understanding that the home tests are not as reliable for detecting the omicron variant as we thought. We would like to implement the following steps:
1. If you have come in contact with someone who has COVID then a test is needed. We are asking that if you or your child exhibit symptoms of COVID then a PCR test will be necessary to determine if you do/not have COVID. Some people have first tested negative for COVID with at home tests. After symptoms persisted a PCR test gave a positive result. Isolation and quarantine should follow with a positive result.
2. If you keep your child home for sniffles, tummy ache, cough etc and you do not suspect any direct contact with COVID, then an at-home test can be given. Or you can visit your pediatrician to rule out COVID or provide an alternate diagnosis before returning to preschool.
3. At this time there are no travel restrictions. If you travel and upon return to the area you exhibit symptoms then please follow #1 above (PCR test). If you have no symptoms after you travel we encourage an at home test for peace of mind:)

We will remain diligent in our process even though we all are growing weary of this virus. We will continue to be consistent with our requests with everyone. It has been a difficult and long process to try to keep our kids, families, & teachers safe and doors open. We hope that we are nearing the end of this surge so that we all can enjoy some better sense of normalcy soon.
God Bless you all,
Becky Gardner, Director & Staff
***1/9/2022*** At this time most of you have seen/heard the updated isolation and quarantine orders given by the MCDOH. The five day period is a huge challenge for us as our population is the most vulnerable as they are not vaccinated. Although masking is required in our preschool, it certainly can be challenging. The children do their best to wear masks but "well fitting" can vary. In order to keep our kids, families and teachers safe we are going to continue with our current protocols of 10 days until further notice. We have had children test positive, children in environments where someone in the household is positive and numerous other scenarios. We want to be able to keep our doors open during this surge and it is very possible that we may end up going down a very slippery slope. We want to thank you for your understanding and respecting our decision at this time. We will keep you updated as the numbers are constantly changing.
Becky Gardner, Director & PUMP Staff
***January 2022*** As you are all aware, the new Omicron COVID variant is highly contagious and can be asymptomatic. Since our "little population" are the ones who are unvaccinated, we want to be sure that we are doing everything possible to mitigate any spread of ANY COVID or variants in the preschool. We ask that you are very diligent in making sure that your little ones are feeling well; NO runny noses, sore throats, coughs or fevers when you are sending them to Preschool. PLEASE take the time to check them each morning and fill out the health questionnaire before they arrive at Preschool. We will continue to check temperatures, hand sanitize upon arrival and throughout the day, and monitor them at preschool as well. If we feel that someone is not feeling well, we reserve the right to contact you to pick them up. Our goal is to keep the kids coming to preschool and not have to shut down from the increase in cases.
Thank you for your patience and understanding,
Becky Gardner, Director
Staff
Printer friendly versions: